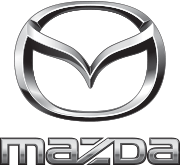 RELISH THE DRIVE AGAIN
Owning a Mazda is made easier than ever with a host of purchasing options that we have crafted especially for you.
View Offers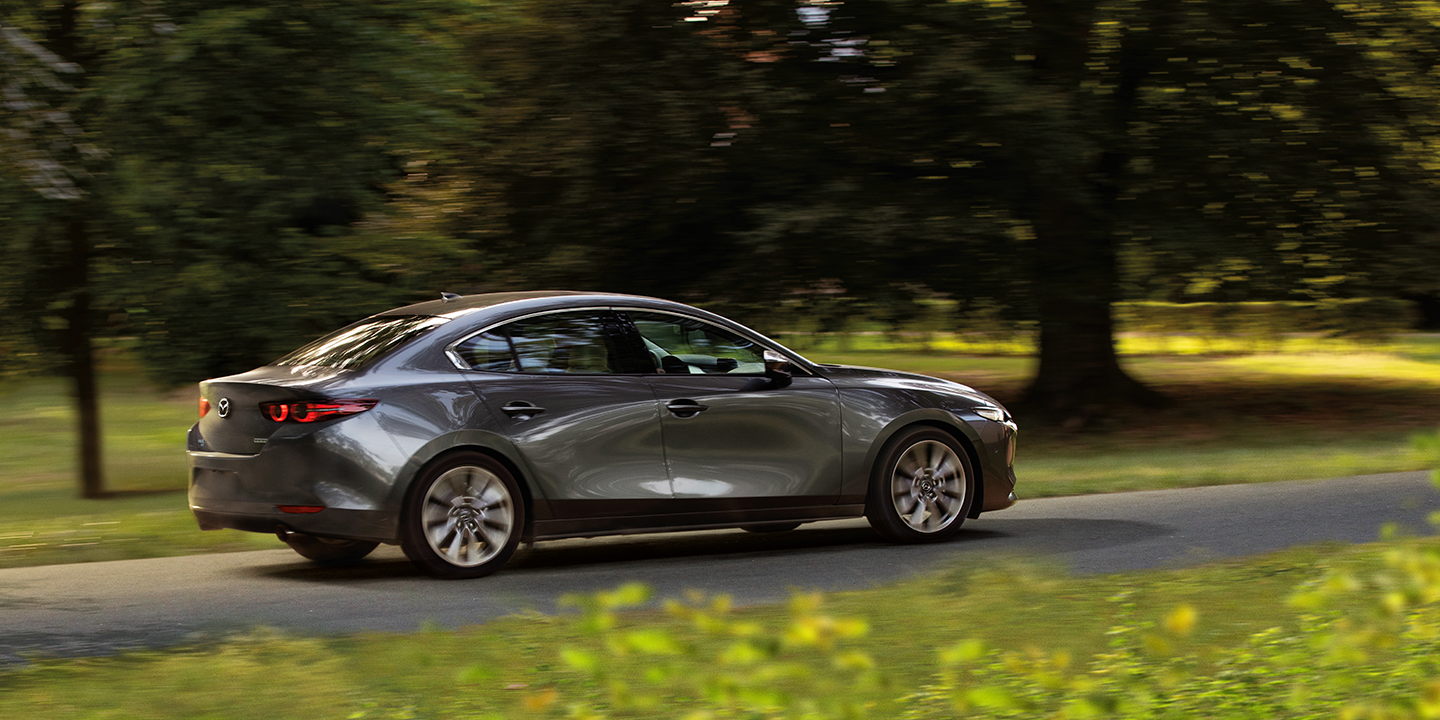 SMOOTH OPERATOR
Delivering fuel efficiency without compromise, the Skyactiv-G engine is a showcase of Mazda ingenuity. Gasoline Direct Injection technology combined with one of the highest compression ratios in its class at 13:1, and groundbreaking combustion innovations, together unleash potent power on demand.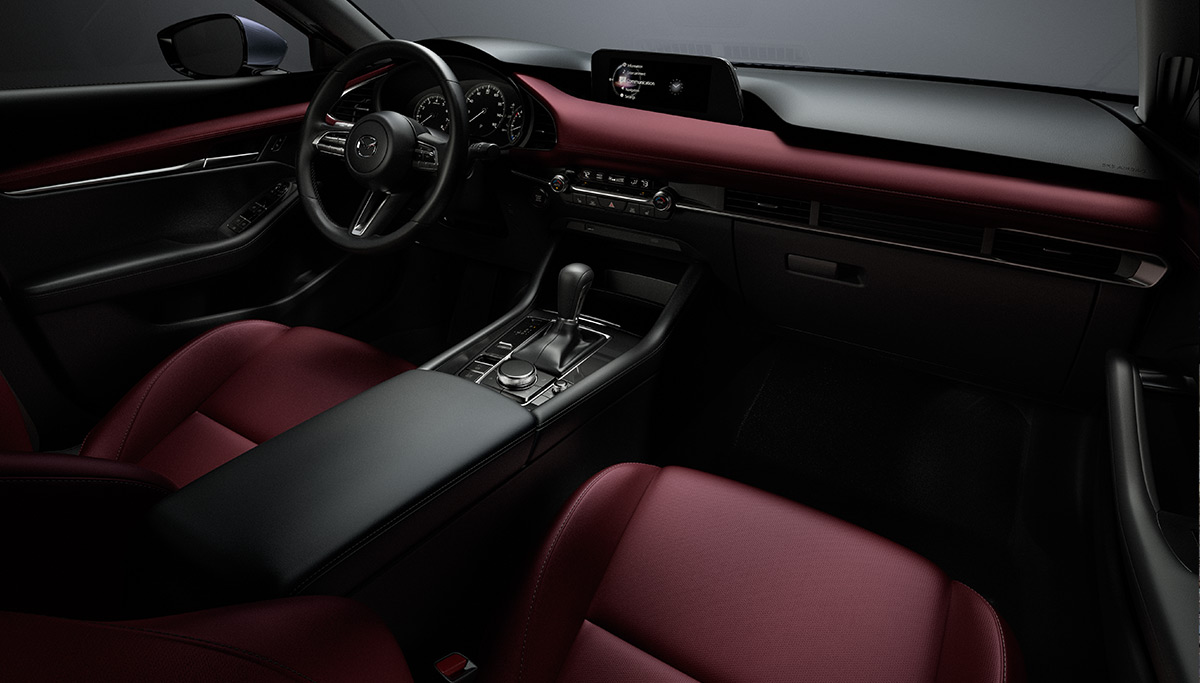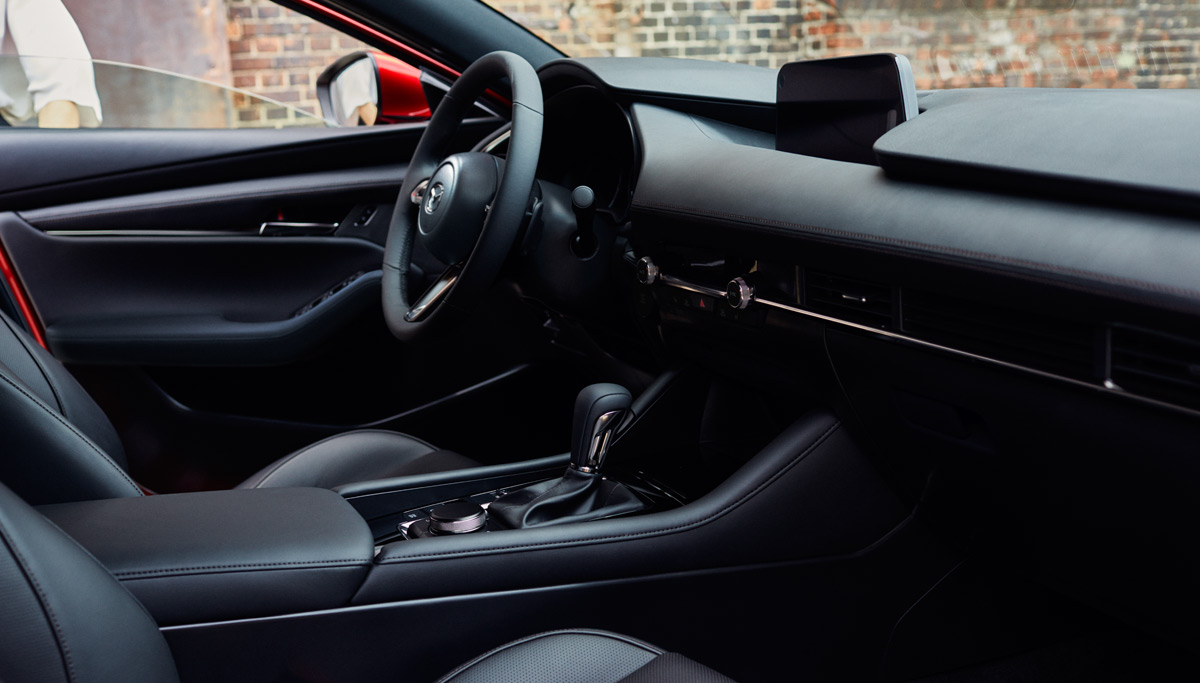 A CLASS ABOVE
With refinements in engine, chassis, suspension, and interior design, every Mazda is a harmonious system that operates at its finest in any condition. Uniquely elegant and undoubtedly sophisticated inside and out, the Mazda3 raises the bar in driving joy and satisfaction. A true premium driving experience.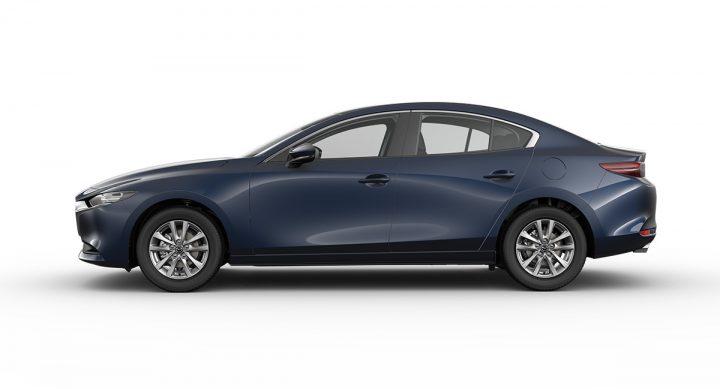 SEDAN ELITE
₱1,295,000+
Engine - SKYACTIV-G 1.5L
Body Style - Sedan
Transmission - SKYACTIV-DRIVE 6-Speed Automatic with Sport Mode
Equipped with G-Vectoring Control Plus
+Add P16,800 for Machine Gray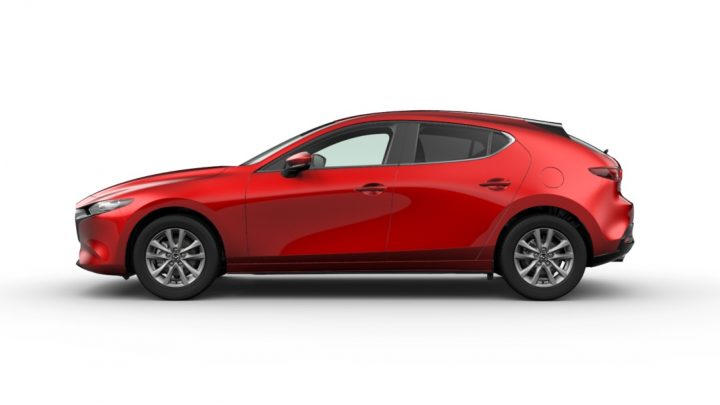 SPORTBACK ELITE
₱1,320,000^
Engine - SKYACTIV-G 1.5L
Body Style - Sportback
Transmission - SKYACTIV-DRIVE 6-Speed Automatic with Sport Mode
Equipped with G-Vectoring Control Plus
^Add P22,400 for Soul Red Crystal
+Add P16,800 for Machine Gray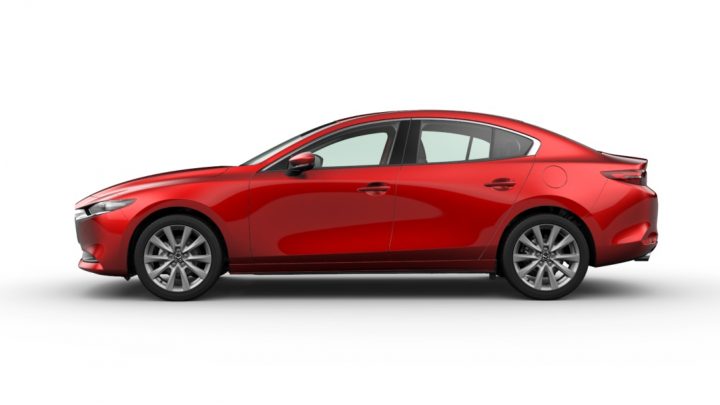 SEDAN PREMIUM
₱1,495,000^+
Engine - SKYACTIV-G 2.0
Body Style - Sedan
Transmission - SKYACTIV-DRIVE 6-Speed Automatic with Sport Mode
Equipped with G-Vectoring Control Plus
^Add P22,400 for Soul Red Crystal
+Add P16,800 for Machine Gray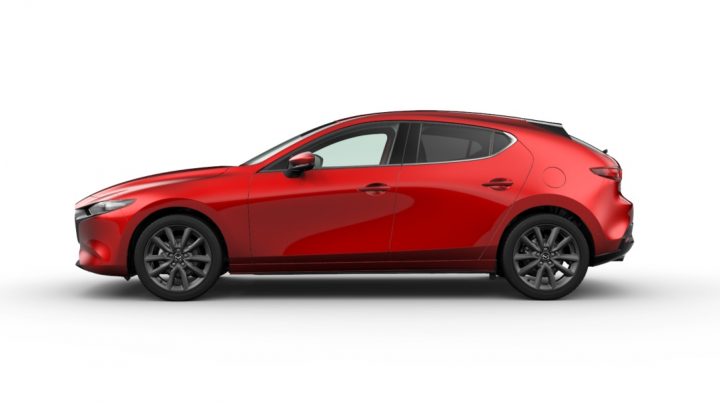 SPORTBACK PREMIUM
₱1,510,000^+
Engine - SKYACTIV-G 2.0
Body Style - Sportback
Transmission - SKYACTIV-DRIVE 6-Speed Automatic with Sport Mode
Equipped with G-Vectoring Control
Speed Package - Add P80,000 for Red Leather Interior and Bodykits

MAZDA3 FEATURES
GENERAL

Engine: SKYACTIV-G 1.5L
Body Style: Sedan
Transmission: SKYACTIV-DRIVE 6-Speed Automatic with Sport Mode
G-Vectoring Control Plus: Equipped

DIMENSIONS & WEIGHTS

Overall Length (mm): 4,660
Overall Width (mm): 1,795
Overall Height (mm): 1,440
Wheelbase (mm): 2,725
Front Tread (mm): 1,570
Rear Tread (mm): 1,580
Minimum Turning Radius (m): 5.3
Minimum Curb Weight (kg):  1,302

ENGINE

SKYACTIV-G In-line 4-Cylinder DOHC, 16 Valves
Displacement (cc): 1,496
13:1 Compression Ratio
Direct Injection Fuel System
Recommended Fuel: 91-95 RON
Maximum Output (Ps/rpm):  111 / 6,000
Maximum Torque (Nm/rpm): 146 / 3,500
Fuel Tank Capacity (L): 51

STEERING

Type: Rack and Pinion
Power Steering Type: Electric Power-Assisted Steering
Cruise Control: Equipped
Paddle Shifters: Equipped

STEERING WHEELS CONTROLS

Material: Leather Wrapped Steering Wheel
Control Switch: Audio & Bluetooth® Hands-Free

SUSPENSION

Front: MacPherson Strut

Rear: Torsion Beam Axle

BRAKES

Front: Ventilated Discs
Rear: Solid Discs
Electric Parking Brake with Auto Brake Hold

EXTERIOR

Mesh Design Front Grille
Wipers: Rain Sensing
Side Mirrors: Power Adjust & Power Fold
Dual Exhaust Tail Pipe

HEADLAMPS

Type: LED
Running Lamp: Bulb

WHEELS & TIRES

Type: 16" Aluminum Alloy Wheels
Color: Gray Metallic
Tire Size: 205/60 R16

INTERIOR

Leather Wrapped Shift Knob
Front Windshield Projected Active Driving Display HUD
7"LCD Display Meter Set
Front: Dual-Zone Automatic Climate Control
Rear: Ventilation Louvres
Push Start / Stop Button: Equipped
Auto Dimming Rear View Mirror
One-Touch Up/Down Power Windows

SEATING & TRIM

Material: Fabric
Color: Black
Front Driver Seat: 8-Way Manual Adjust
Front Passenger Seat: 6-Way Manual Adjust
Rear Passenger: Equipped with Center Armrest and Cup Holders

AUDIO & INFOTAINMENT

Type: Mazda Connect with 8.8" LCD Monitor
Phone Connectivity: USB, & Bluetooth® Hands-Free
Smartphone Mirroring: Equipped
Speakers: 8-Speaker Mazda Harmonic Acoustics

SAFETY AND SECURITY

Driver and Front Passenger, Side Driver and Passenger, Left and Right Curtain & Driver Knee Airbags
Anti-Locking Braking System (ABS) with Electronic Brakeforce Distribution (EBD)
Dynamic Stability Control (DSC): Equipped
Smart Keyless Entry System: Equipped
Seatbelt Warning Lamp
Pedal Misuse Alert: Equipped
GENERAL

Engine: SKYACTIV-G 1.5L
Body Style: Sportback
Transmission: SKYACTIV-DRIVE 6-Speed Automatic with Sport Mode
G-Vectoring Control Plus: Equipped

DIMENSIONS & WEIGHTS

Overall Length (mm): 4,460
Overall Width (mm): 1,795
Overall Height (mm): 1,435
Wheelbase (mm): 2,725
Front Tread (mm): 1,570
Rear Tread (mm): 1,580
Minimum Turning Radius (m): 5.3
Minimum Curb Weight (kg): 1,319

ENGINE

SKYACTIV-G In-line 4-Cylinder DOHC, 16 Valves
Displacement (cc): 1,496
13:1 Compression Ratio
Direct Injection Fuel System
Recommended Fuel: 91-95 RON
Maximum Output (Ps/rpm): 111 / 6,000
Maximum Torque (Nm/rpm): 146 / 3,500
Fuel Tank Capacity (L): 51

STEERING

Type: Rack and Pinion
Power Steering Type: Electric Power-Assisted Steering
Cruise Control: Equipped
Paddle Shifters: Equipped

STEERING WHEELS CONTROLS

Material: Leather Wrapped Steering Wheel
Control Switch: Audio & Bluetooth® Hands-Free

SUSPENSION

Front: MacPherson Strut
Rear: Torsion Beam Axle

BRAKES

Front: Ventilated Discs
Rear: Solid Discs
Electric Parking Brake with Auto Brake Hold

EXTERIOR

Mesh Design Front Grille
Electric Glass Sunroof
Wipers: Rain Sensing
Side Mirrors: Power Adjust & Power Fold
Dual Exhaust Tail Pipe

HEADLAMPS

Type: LED
Running Lamp: Bulb

WHEELS & TIRES

Type: 16" Aluminum Alloy Wheels
Color: Gray Metallic
Tire Size: 205/60 R16

INTERIOR

Leather Wrapped Shift Knob
Front Windshield Projected Active Driving Display HUD
7"LCD Display Meter Set
Front: Dual-Zone Automatic Climate Control
Rear: Ventilation Louvres
Push Start / Stop Button: Equipped
Auto Dimming Rear View Mirror
One-Touch Up/Down Power Windows

SEATING & TRIM

Material: Leatherette
Color: Black
Front Driver Seat: 8-Way Manual Adjust
Front Passenger Seat: 6-Way Manual Adjust
Rear Passenger: Equipped with Center Armrest and Cup Holders

AUDIO & INFOTAINMENT

Type: Mazda Connect with 8.8" LCD Monitor
Phone Connectivity: USB, & Bluetooth® Hands-Free
Smartphone Mirroring: Equipped
Speakers: 8-Speaker Mazda Harmonic Acoustics

SAFETY AND SECURITY

Driver and Front Passenger, Side Driver and Passenger, Left and Right Curtain & Driver Knee Airbags
Anti-Locking Braking System (ABS) with Electronic Brakeforce Distribution (EBD)
Dynamic Stability Control (DSC): Equipped
Smart Keyless Entry System: Equipped
Seatbelt Warning Lamp
Pedal Misuse Alert: Equipped
GENERAL

Engine: SKYACTIV-G 2.0
Body Style: Sedan
Transmission:  SKYACTIV-DRIVE 6-Speed Automatic with Sport Mode
G-Vectoring Control Plus: Equipped

DIMENSIONS & WEIGHTS

Overall Length (mm): 4,660
Overall Width (mm): 1,795
Overall Height (mm):  1,440
Wheelbase (mm): 2,725
Front Tread (mm): 1,570
Rear Tread (mm): 1,580
Minimum Turning Radius (m): 5.3
Minimum Curb Weight (kg):  1,354

ENGINE

SKYACTIV-G In-line 4-Cylinder DOHC, 16 Valves
Displacement (cc): 1,998
13:1 Compression Ratio
Direct Injection Fuel System
Recommended Fuel: 91-95 RON
Maximum Output (Ps/rpm): 154/6,000
Maximum Torque (Nm/rpm): 200/4,000
Fuel Tank Capacity (L): 51

STEERING

Type: Rack and Pinion
Power Steering Type: Electric Power-Assisted Steering
Cruise Control: Mazda Radar Cruise Control with Cruising & Traffic Support
Paddle Shifters: Equipped

STEERING WHEELS CONTROLS

Material: Leather Wrapped Steering Wheel
Control Switch: Audio & Bluetooth® Hands-Free

SUSPENSION

Front: MacPherson Strut
Rear:  Torsion Beam Axle

BRAKES

Front: Ventilated Discs
Rear: Solid Discs
Electric Parking Brake with Auto Brake Hold

EXTERIOR

Mesh Design Front Grille
Wipers: Rain Sensing
Electric Glass Sunroof: Equipped
Side Mirrors:Power Adjust & Power Fold with Memory
Dual Exhaust Tail Pipe

HEADLAMPS

Type: LED Adaptive Front-Lighting System (AFS)
Running Lamp: LED
High Beam Control: Equipped

WHEELS & TIRES

Type: 18" Aluminum Alloy Wheels
Color: Gray Metallic
Tire Size: 215/45 R18 Tyres

INTERIOR

Active-Driving Display (HUD): Front Windshield Projected
Shift Knob: Leather Wrapped
Meter Set: 7" LCD Display Meter Set
Climate Control (Front): Automatic Dual-Zone
Climate Control (Rear): Ventilation Louvres
Push Start / Stop Button: Equipped
Rear View Mirror: Auto Dimming
Power Windows: One-Touch Up/Down

SEATING & TRIM

Material: Leather
Color: Black
Front Driver Seat: 10-Way Power Adjustable Seats with Memory
Front Passenger Seat: 6-Way Manual Adjust
Rear Passenger : Equipped with Center Armrest and Cup Holders

AUDIO & INFOTAINMENT

Type: Mazda Connect with 8.8" LCD Monitor
Phone Connectivity: USB, Bluetooth Hands-Free & Smartphone Mirroring
Speakers: 12-Speaker BOSE® Sound System

SAFETY AND SECURITY

Driver and Front Passenger, Side Driver and Passenger, Left and Right Curtain & Driver Knee Airbags
Anti-Locking Braking System (ABS) with Electronic Brakeforce Distribution (EBD)
Dynamic Stability Control (DSC): Equipped
Smart Keyless Entry System: Equipped
Front & Rear Parking Sensors
Seatbelt Warning Lamp
Pedal Misuse Alert: Equipped

I-ACTIVSENSE (ACTIVE SAFETY)

Blind-Spot Monitoring: Equipped with Rear-Cross Traffic Alert
Lane Departure Warning With Lane Keep Assist
Smart Brake Support Front: Equipped
Smart Brake Support Reverse: Equipped

Front-Cross Traffic Alert: Equipped
Driver Monitoring System
GENERAL

Engine: SKYACTIV-G 2.0
Body Style: Sedan
Transmission: SKYACTIV-DRIVE 6-Speed Automatic with Sport Mode
G-Vectoring Control Plus: Equipped

DIMENSIONS & WEIGHTS

Overall Length (mm): 4,460
Overall Width (mm): 1,795
Overall Height (mm): 1,435
Wheelbase (mm): 2,725
Front Tread (mm): 1,570
Rear Tread (mm): 1,580
Minimum Turning Radius (m): 5.3
Minimum Curb Weight (kg): 1,346

ENGINE

SKYACTIV-G In-line 4-Cylinder DOHC, 16 Valves
Displacement (cc): 1,998
13:1 Compression Ratio
Direct Injection Fuel System
Recommended Fuel: 91-95 RON
Maximum Output (Ps/rpm): 154/6,000
Maximum Torque (Nm/rpm): 200/4,000
Fuel Tank Capacity (L): 51

STEERING

Type: Rack and Pinion
Power Steering Type: Electric Power-Assisted Steering
Cruise Control: Mazda Radar Cruise Control with Cruising & Traffic Support
Paddle Shifters: Equipped

STEERING WHEELS CONTROLS

Material: Leather Wrapped Steering Wheel
Control Switch: Audio & Bluetooth® Hands-Free

SUSPENSION

Front: MacPherson Strut
Rear: Torsion Beam Axle

BRAKES

Front: Ventilated Discs
Rear: Solid Discs
Electric Parking Brake with Auto Brake Hold

EXTERIOR

Mesh Design Front Grille
Wipers: Rain Sensing
Electric Glass Sunroof: Equipped
Side Mirrors: Power Adjust & Power Fold with Memory
Dual Exhaust Tail Pipe

HEADLAMPS

Type: LED Adaptive Front-Lighting System (AFS)
Running Lamp: LED
High Beam Control: Equipped

WHEELS & TIRES

Type: 18" Aluminum Alloy Wheels
Color: Gray Metallic
Tire Size: 215/45 R18 Tyres

INTERIOR

Active-Driving Display (HUD): Front Windshield Projected
Shift Knob: Leather Wrapped
Meter Set: 7" LCD Display Meter Set
Climate Control (Front): Automatic Dual-Zone Climate Control
Climate Control (Rear): Ventilation Louvres
Push Start / Stop Button: Equipped
Rear View Mirror: Auto Dimming
Power Windows: One-Touch Up/Down

SEATING & TRIM

Material: Leather
Color: Black
Front Driver Seat:
Front Driver Seat: 10-Way Power Adjust with Memory
Front Passenger Seat: 6-Way Manual Adjust
Rear Passenger: Equipped with Center Armrest and Cup Holders

AUDIO & INFOTAINMENT

Type: Mazda Connect with 8.8" LCD Monitor
Phone Connectivity: USB, Bluetooth Hands-Free & Smartphone Mirroring
Speakers: 12-Speaker BOSE® Sound System

SAFETY & SECURITY

Driver and Front Passenger, Side Driver and Passenger, Left and Right Curtain & Driver Knee Airbags
Anti-Locking Braking System (ABS) with Electronic Brakeforce Distribution (EBD)
Dynamic Stability Control (DSC): Equipped
Smart Keyless Entry System: Equipped
Front & Rear Parking Sensors
Seatbelt Warning Lamp
Pedal Misuse Alert: Equipped

I-ACTIVSENSE (ACTIVE SAFETY)

Blind-Spot Monitoring: Equipped with Rear-Cross Traffic Alert
Lane Departure Warning With Lane Keep Assist
Smart Brake Support Front: Equipped
Smart Brake Support Reverse: Equipped
Driver Attention Alert
---
---