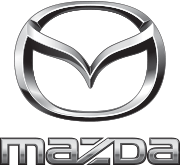 RELISH THE DRIVE AGAIN
Owning a Mazda is made easier than ever with a host of purchasing options that we have crafted especially for you.
View Offers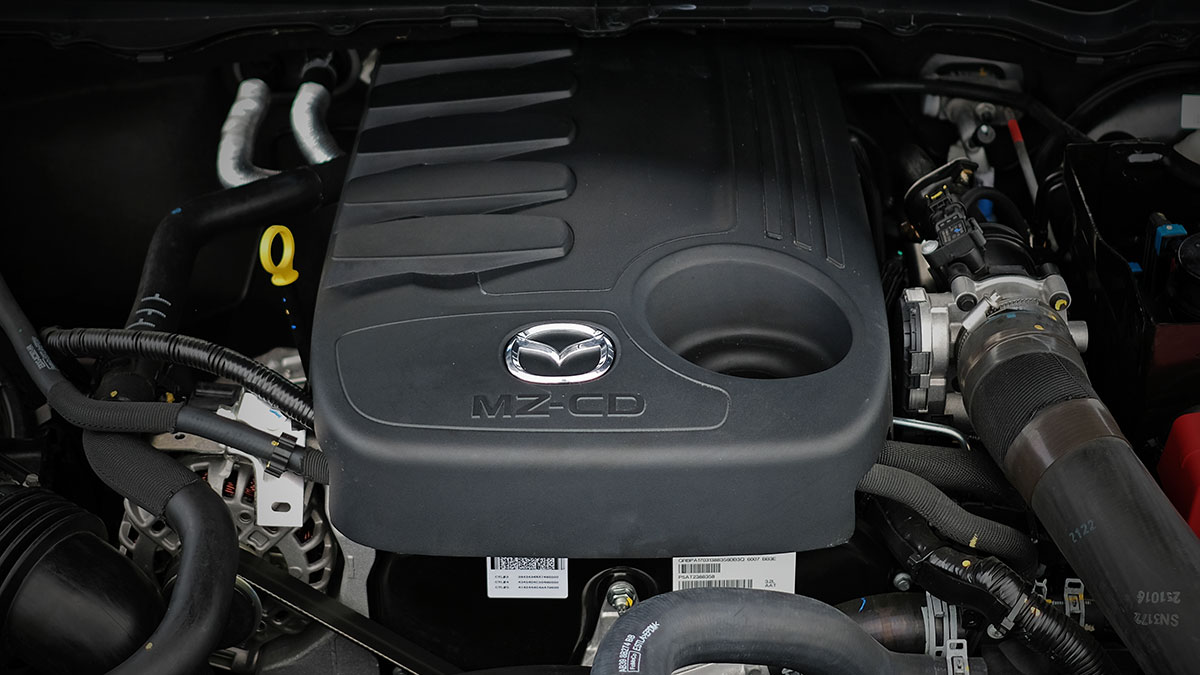 A CERTIFIED HARD WORKER
Brimming with power, the Mazda BT-50 4X4 comes with a 3.2-liter Intercooled Turbo-Diesel that churns a robust 200PS and 470Nm of torque. The highest displacement engine available in a local pickup today is ready to come to life at your prodding.
LEARN MORE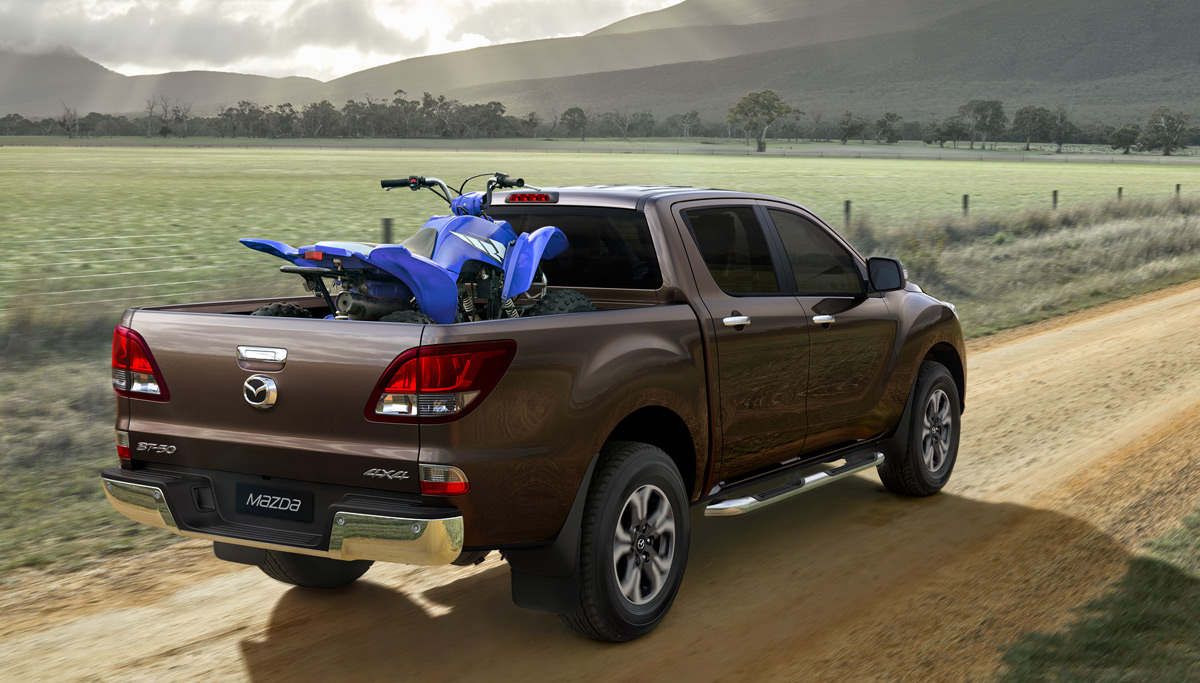 BUILT TO DO ANY JOB
A spacious cargo bed matched to a rigid ladder-frame chassis makes for a strong and capable workhorse. With its 800mm wading depth and 1,100kg maximum payload, the Mazda BT-50 stands ready to accomplish whatever task is thrown its way.
LEARN MORE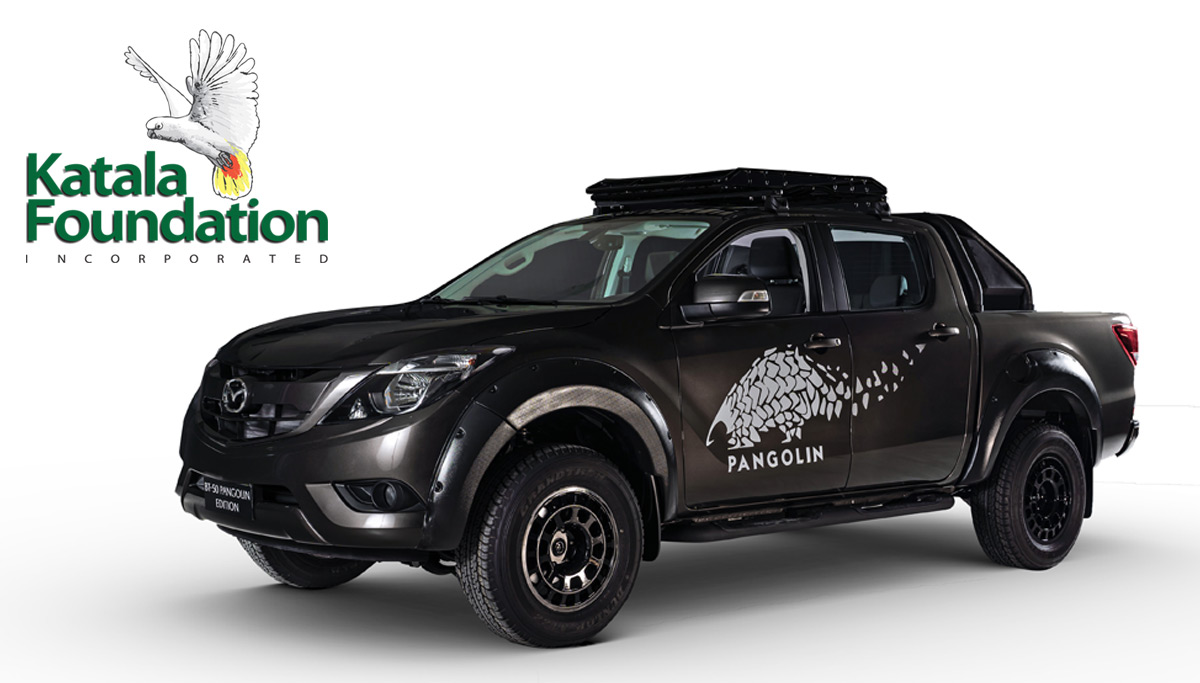 WORKING WITH KATALA FOUNDATION
We've partnered with Katala Foundation, a Palawan-based NGO that's giving the Philippine Pangolin a chance against extinction. Together with Katala, Mazda Philippines will make use of the enduring nature of the BT-50 to promote awareness and inspire conservation of one of the Philippines' and the world's most critically endangered mammals.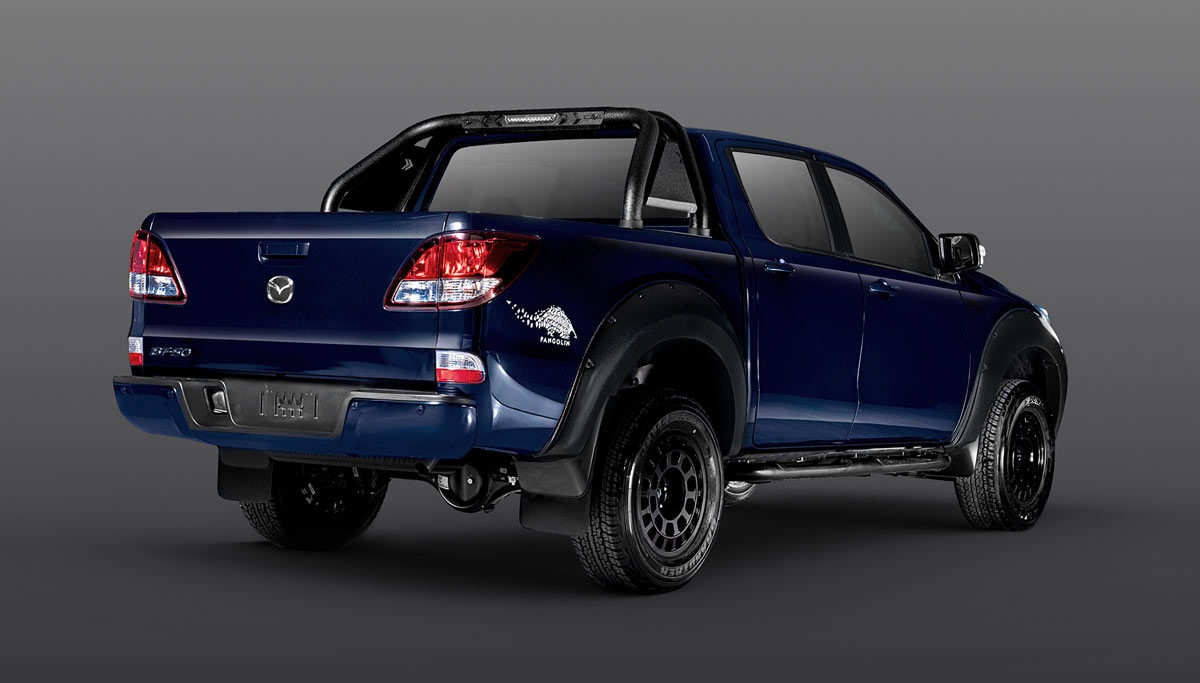 CHAMPIONING WILDLIFE PRESERVATION
Mazda Philippines raises awareness of a critically endangered species endemic to the islands of Palawan with the introduction of the new BT-50 Pangolin. This new variant features locally made and assembled upgrades that expand the capabilities of Mazda's do-it-all truck.
DOWNLOAD BT-50 PANGOLIN E-CATALOG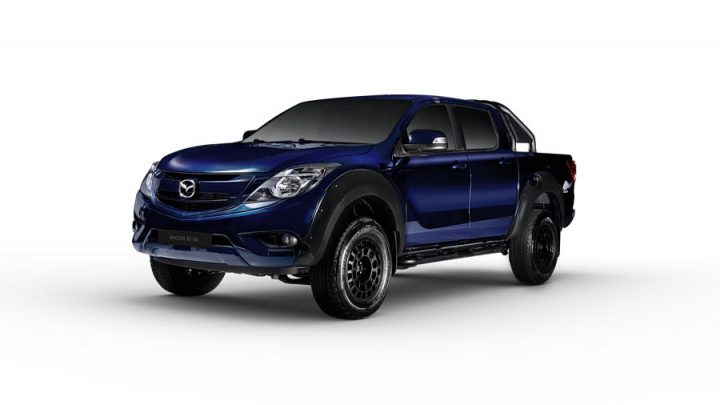 PANGOLIN EDITION 2.2L 4x2 AT
₱1,395,000
Transmission: 6-Speed Automatic
Drivetrain: 4x2
Body Style: Dual Cab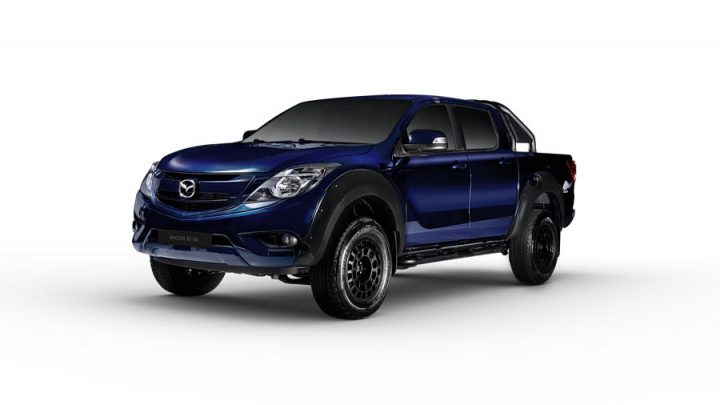 PANGOLIN EDITION 2.2L 4x2 MT
₱1,350,000
Transmission: 6-Speed Manual
Drivetrain: 4x2
Body Style: Dual Cab
MAZDA BT-50 FEATURES
GENERAL

Transmission: 6-Speed Automatic
Drivetrain: 4x2
Body Style: Dual Cab

DIMENSIONS AND WEIGHTS

Overall Length: 5,365mm
Overall Width: 1,850mm
Overall Height: 1,821mm
Wheelbase: 3,220mm
Tread Front: 1,560mm
Tread Rear: 1,560mm
Mininum Ground clearance (Unladen): 237mm
Mininum Turning radius: 12m
Curb Weight Max: 2,055kg
Gross Vehicle Weight: 3,200kg
Cargo-box (at floor) Length: 1,549mm
Cargo-box (at floor) Width: 1,560mm
Cargo-box (at floor) Height: 513mm

ENGINE

Type: 2.2L Intercooled Turbo Diesel In-line 4-Cylinder DOHC, 16 Valves
Displacement: 2,198cc
Compression Ratio: 15.5 : 1
Fuel System: Common-rail, Electronic Direct Injection
Recommended Fuel: Diesel
Maximum Output (PS/rpm): 150 @ 3,700
Maximum Torque (Nm/rpm): 375 @ 1,500-2,500
Fuel Tank Capacity: 80 Liters
Emissions: Stage 4

CHASSIS

Suspension Front: Independent Double Wishbone
Suspension Rear: Rigid, Leaf Spring
Brakes System: Hydraulic with Vacuum Servo Assistance
Brakes Front: Ventilated Disc
Brakes Rear: Drum
Wheels Size and Type: 17" ROTA Alloy Wheels
Wheels Colour: Black Finish
Tire Size: 265/65 R17

EXTERIOR

Headlamps Type: Halogen with Auto on/off
Front Fog Lamps Type: Standard
Front Grille Color: Body Color
Wipers: Rain Sensing Wipers
Side Mirrors Type: Power Electric Adjustable with Power Fold
Side Mirrors Color: Body Color
Antenna Type: Short Type
Side Step Type: Matte Black Finish
Roll Bar: Equipped
Decal: Pangolin Logo
Overfenders: Equipped
Bed Liner: Equipped

INTERIOR

Seats & Trim Upholstery Material: Leather
Seats & Trim Upholstery Color: Black
Door Trim Upholstery Material: Leather
Shift Knob Material: Leather
Climate control: Dual-zone Automatic Climate Control
Rear View Mirror: Auto Dimming
Power windows: Standard

STEERING WHEELS CONTROLS

Material: Leather
Control Switch: Audio
Cruise Control: Standard

AUDIO System

Type: 7" Touch Screen Display with Bluetooth, USB, Apple Carplay & Android Auto
Speakers: 6 pcs
Bluetooth® hands-free system: Standard

SAFETY AND SECURITY

Airbags: Driver and Passenger
ABS (Anti Lock Braking System): Standard with Electronic Brake Distribution & Brake Assist
Dynamic Stability Control (DSC): Standard
Seatbelts Front: 3-pt ELR x2 with Pretensioner and Load Limiter
Seatbelts Rear: 3-pt ELR x2 & 2-pt ALR (rear)
Immobilizer: Standard
Remote Keyless Entry System: Standard
Parking Sensor Rear: Standard
High Mount Stop Lamp: Standard
GENERAL

Transmission: 6-Speed Manual
Drivetrain: 4x2
Body Style: Dual Cab

DIMENSIONS AND WEIGHTS

Overall Length: 5,365mm
Overall Width: 1,850mm
Overall Height: 1,821mm
Wheelbase: 3,220mm
Tread Front: 1,560mm
Tread Rear: 1,560mm
Mininum Ground clearance (Unladen): 237mm
Mininum Turning radius: 12m
Curb Weight Max: 2,052kg
Gross Vehicle Weight: 3,200kg
Cargo-box (at floor) Length: 1,549mm
Cargo-box (at floor) Width: 1,560mm
Cargo-box (at floor) Height: 513mm

ENGINE

Type: 2.2L Intercooled Turbo Diesel In-line 4-Cylinder DOHC, 16 Valves
Displacement: 2,198cc
Compression Ratio: 15.5 : 1
Fuel System: Common-rail, Electronic Direct Injection
Recommended Fuel: Diesel
Maximum Output (PS/rpm): 150 @ 3,700
Maximum Torque (Nm/rpm): 375 @ 1,500-2,500
Fuel Tank Capacity: 80 Liters
Emissions: Stage 4

CHASSIS

Suspension Front: Independent Double Wishbone
Suspension Rear: Rigid, Leaf Spring
Brakes System: Hydraulic with Vacuum Servo Assistance
Brakes Front: Ventilated Disc
Brakes Rear: Drum
Wheels Size and Type: 17" ROTA Alloy Wheels
Wheels Colour: Black Finish
Tire Size: 265/65 R17

EXTERIOR

Headlamps Type: Halogen with Auto on/off
Front Fog Lamps Type: Standard
Front Grille Color: Body Color
Wipers: Rain Sensing Wipers
Side Mirrors Type: Power Electric Adjustable with Power Fold
Side Mirrors Color: Body Color
Antenna Type: Short Type
Side Step Type: Matte Black Finish
Roll Bar: Equipped
Decal: Pangolin Logo
Overfenders: Equipped
Bed Liner: Equipped

INTERIOR

Seats & Trim Upholstery Material: Leather
Seats & Trim Upholstery Color: Black
Door Trim Upholstery Material: Leather
Shift Knob Material: Leather
Climate control: Dual-zone Automatic Climate Control
Rear View Mirror: Auto Dimming
Power windows: Standard

STEERING WHEELS CONTROLS

Material: Leather
Control Switch: Audio
Cruise Control: Standard

AUDIO System

Type: 7" Touch Screen Display with Bluetooth, USB, Apple Carplay & Android Auto
Speakers: 6 pcs
Bluetooth® hands-free system: Standard

SAFETY AND SECURITY

Airbags: Driver and Passenger
ABS (Anti Lock Braking System): Standard with Electronic Brake Distribution & Brake Assist
Dynamic Stability Control (DSC): Standard
Seatbelts Front: 3-pt ELR x2 with Pretensioner and Load Limiter
Seatbelts Rear: 3-pt ELR x2 & 2-pt ALR (rear)
Immobilizer: Standard
Remote Keyless Entry System: Standard
Parking Sensor Rear: Standard
High Mount Stop Lamp: Standard
---
---