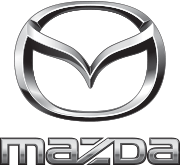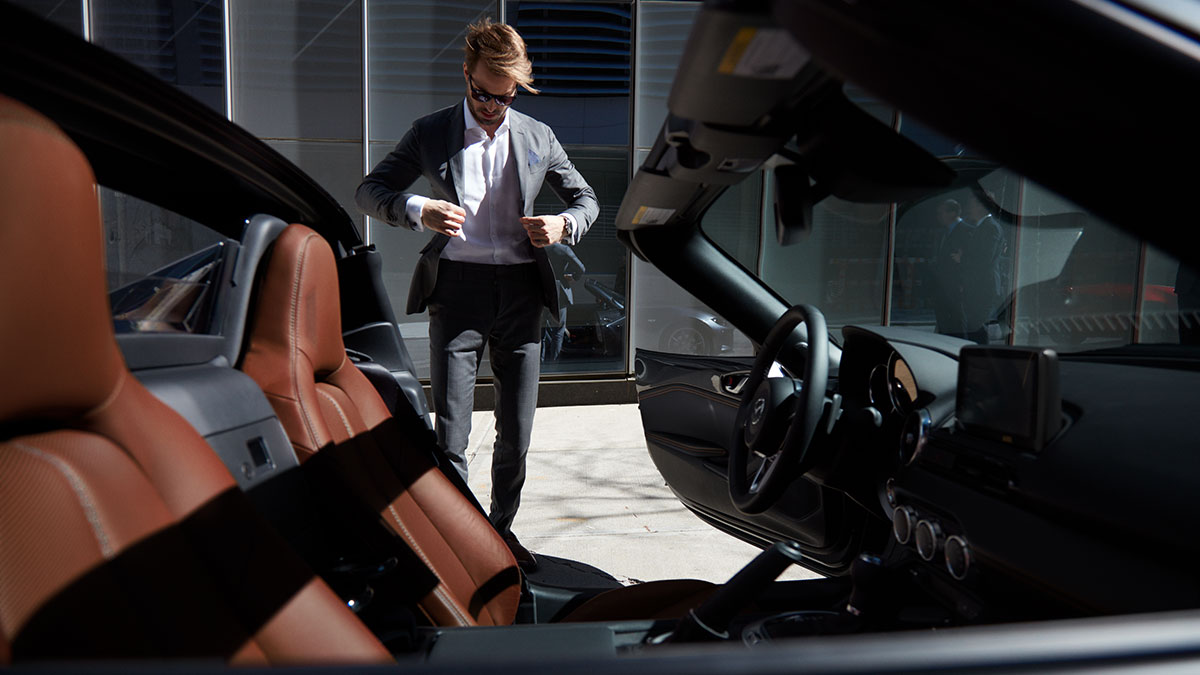 THE PERFECT FIT
How do you fit a rigid hardtop into a space just big enough for a folding cloth-top? After considering several methods, some as dramatic as splitting the roof into seven parts, our fearless engineers came up with a functional yet beautiful solution. They used the previous generation hardtop structure but redesigned each linkage to make it as rigid as possible. The result is a mechanism that is both quiet and efficient.
LEARN MORE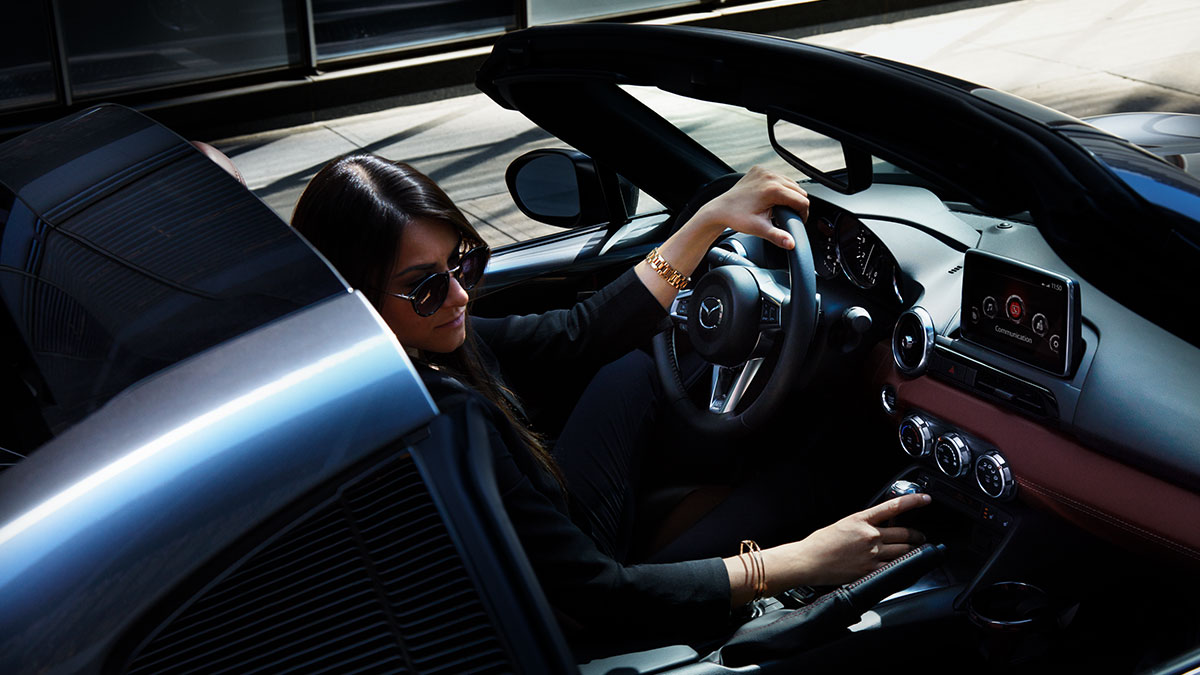 DROP THE TOP
Our dedicated team of engineers worked tirelessly to produce a fastback roof that was both beautiful and functional. It had to move quickly and elegantly while complementing the silhouette of this sleek and mysterious roadster. After countless rounds of trial and error, our team developed a truly innovative, power-folding fastback roof that operates seamlessly in about 13 seconds.
LEARN MORE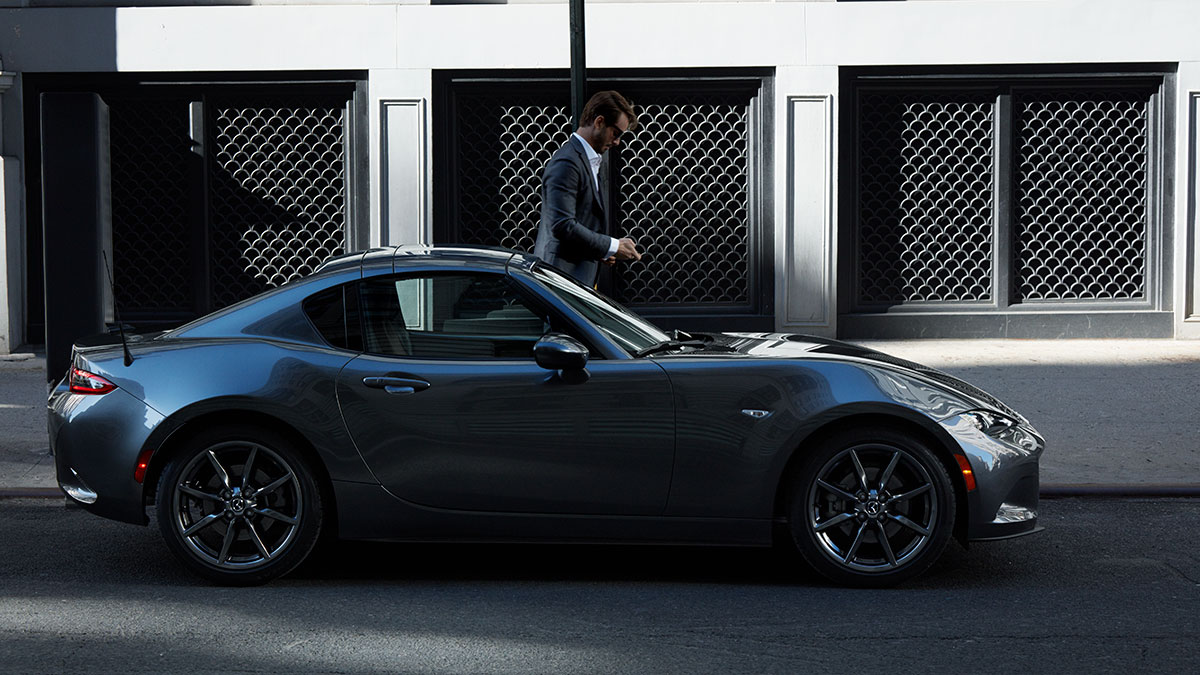 SHAPING UP
The aluminum power plant frame has undergone a weight loss of nearly 20 percent from the Mazda MX-5's previous generation. That means a more connected and responsive driving experience every time you get behind the wheel.
LEARN MORE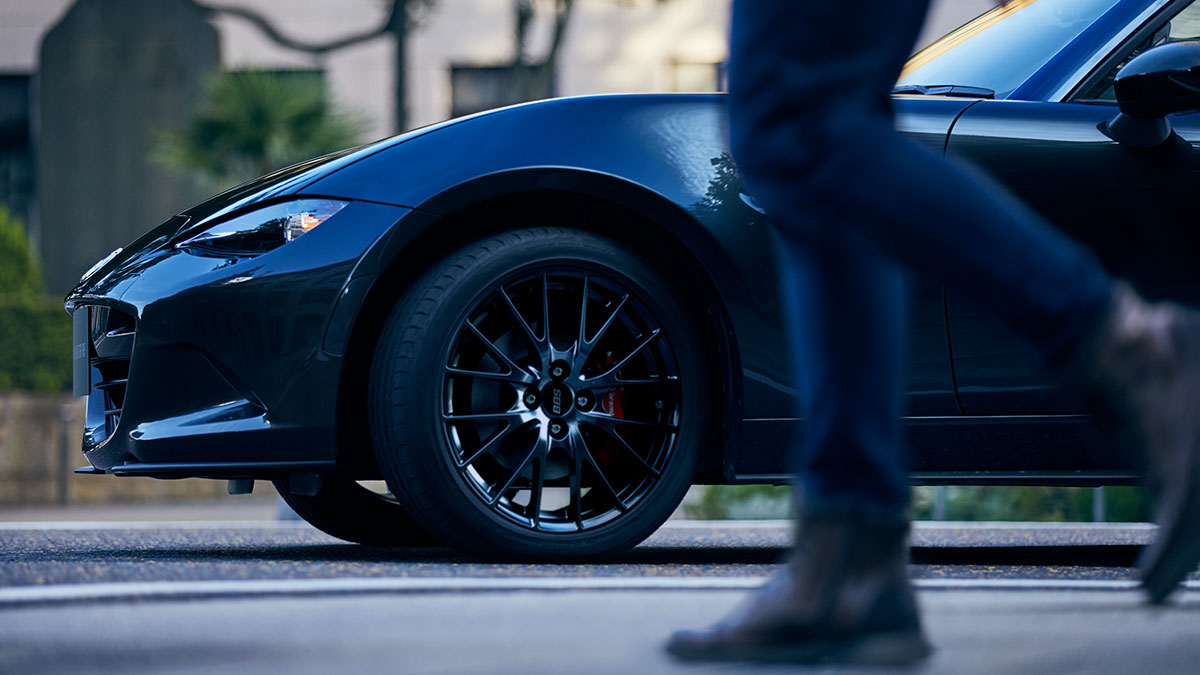 THE JOY OF ROWING GEARS
The Club Edition option can now be had in the manual transmission, so you are in full control of the drive. A drive that's sportier in Recaro seats and BBS wheels.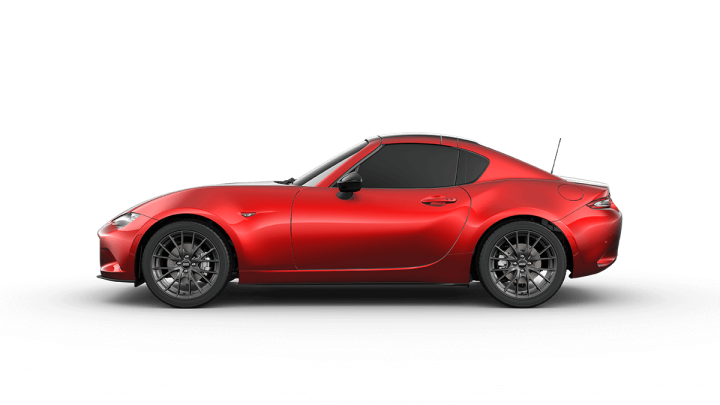 CLUB EDITION 2.0L SKYACTIV AT
₱2,850,000^+
Engine: SKYACTIV-G 2.0L
Transmission: SKYACTIV-DRIVE 6-Speed Automatic with Sport Mode
Roof Color: Black
Equipped with Kinematic Posture Control
^Add P22,400 for Soul Red Crystal
+Add P16,800 for Machine Gray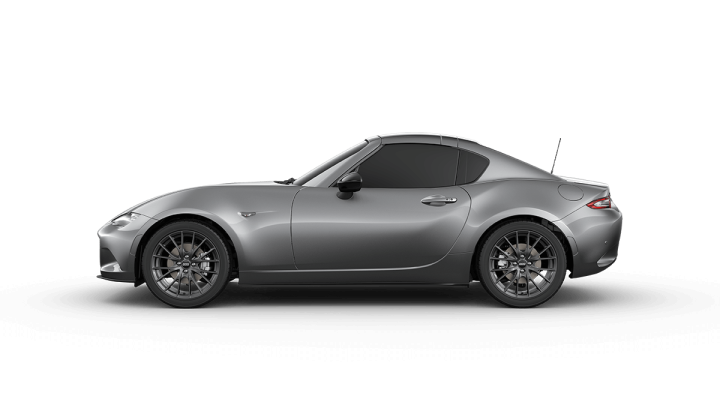 CLUB EDITION 2.0L SKYACTIV MT
₱2,780,000^+
Engine: SKYACTIV-G 2.0L
Transmission: SKYACTIV-DRIVE 6-Speed Manual
Roof Color: Black
Equipped with Kinematic Posture Control
^Add P22,400 for Soul Red Crystal
+Add P16,800 for Machine Gray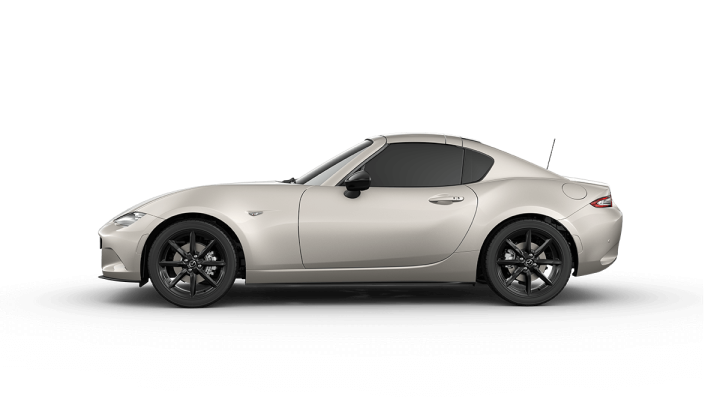 2.0L SKYACTIV AT
₱2,450,000 - ₱2,490,000^+
Engine: SKYACTIV-G 2.0L
Transmission: SKYACTIV-DRIVE 6-Speed Automatic with Sport Mode
Roof Color: Body Color
Equipped with Kinematic Posture Control
^Add P22,400 for Soul Red Crystal
+Add P16,800 for Machine Gray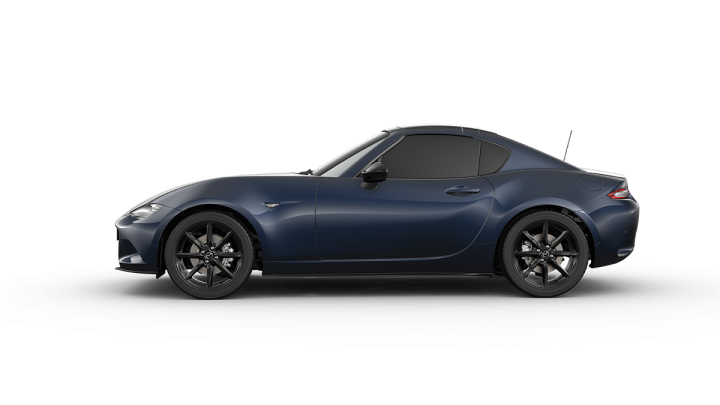 2.0L SKYACTIV MT
₱2,350,000 - ₱2,400,000^+
Engine: SKYACTIV-G 2.0L
Transmission: SKYACTIV-DRIVE 6-Speed Manual
Roof Color: Black
Equipped with Kinematic Posture Control
^Add P22,400 for Soul Red Crystal
+Add P16,800 for Machine Gray
MAZDA MX-5 RF FEATURES
GENERAL

Engine: SKYACTIV-G 2.0L
Transmission: SKYACTIV-DRIVE 6-Speed Automatic with Sport Mode
Roof Color: Black

DIMENSIONS & WEIGHTS

Overall Length (mm): 3,915
Overall Width (mm): 1,735
Overall Height (mm): 1,235
Front Tread (mm): 1,495
Rear Tread (mm): 1,505
Wheelbase (mm): 2,310
Minimum Turing Radius (m): 4.7
Minimum Curb Weight (kg): 1,125

ENGINE

In-line 4-Cylinder DOHC, 16 Valves
Displacement (cc): 1,998
13:1 Compression Ratio
Electrically Controlled Fuel Injection
Recommended Fuel: Minimum RON 95 Premium Unleaded
Maximum Output (PS/rpm): 184 @ 7,000
Maximum Torque (Nm/rpm): 205 @ 4,000
Fuel Tank Capacity (L): 45

STEERING

Rack and Pinion
Tilt & Telescopic
Leather Wrapped Steering Wheel
Control Switch: Audio & Bluetooth Hands-Free
Paddle Shifters
Standard Cruise Control

SUSPENSION

Front: Double Wishbone
Rear: Multi-Link

BRAKES

Front: Ventilated Discs
Rear: Solid Discs

EXTERIOR

Wheels Type: 17" BBS Wheels
Wheels Color: Gun Metallic
Tire Size: 205 / 45 R17
Adaptive LED Headlamps with Auto On/Off
LED Running Lamp
Time-Adjustable Intermittent with Rain Sensor
Dual-Type Exhaust Tail Pipe
Side Mirror Type: Power Adjust
Side Mirror Color: Black

INTERIOR

Leather Wrapped Shift Knob
Bluetooth Hands-Free System
Automatic Single-Zone Climate Control
Push Start / Stop Button
Auto Dimming Rear View Mirror
One-Touch Down Power Windows (Driver & Passenger)

Seating & Trim

Material: Recaro Seats
Color: Black with Red Accents

Audio & Infotainment

Mazda Connect with Aux-in, 2-USB, Bluetooth, Wireless Apple Carplay & Android Auto
9-Speaker BOSE Sound System

SAFETY & SECURITY

Airbags: Dual Front & Side Airbags
Anti-Lock Braking System with EBD (Electronic Brakeforce Distribution)
Dynamic Stability Control (DSC)
Smart Keyless Entry System
Rear Parking Sensors
Reverse Camera
Seatbelt Warning Lamp

I-ACTIVSENSE

Smart City Brake Support
Lane Departure Warning

SPECIAL FEATURES

i-STOP Engine Idling Stop System
i-ELOOP Regenerative Braking System
Kinematic Posture Control
GENERAL

Engine: SKYACTIV-G 2.0L
Transmission: SKYACTIV-DRIVE 6-Speed Manual
Roof Color: Black

DIMENSIONS & WEIGHTS

Overall Length (mm): 3,915
Overall Width (mm): 1,735
Overall Height (mm): 1,235
Front Tread (mm): 1,495
Rear Tread (mm): 1,505
Wheelbase (mm): 2,310
Minimum Turing Radius (m): 4.7
Minimum Curb Weight (kg): 1,096

ENGINE

In-line 4-Cylinder DOHC, 16 Valves
Displacement (cc): 1,998
13:1 Compression Ratio
Electrically Controlled Fuel Injection
Recommended Fuel: Minimum RON 95 Premium Unleaded
Maximum Output (PS/rpm): 184 @ 7,000
Maximum Torque (Nm/rpm): 205 @ 4,000
Fuel Tank Capacity (L): 45

STEERING

Rack and Pinion
Tilt & Telescopic
Leather Wrapped Steering Wheel
Control Switch: Audio & Bluetooth Hands-Free

SUSPENSION

Front: Double Wishbone with Bilstein Dampers
Rear: Multi-Link
Limited Slip Differential
Strut Bar

BRAKES

Front: Ventilated Discs
Rear: Solid Discs

EXTERIOR

Wheels Type: 17" BBS Wheels
Wheels Color: Gun Metallic
Tire Size: 205 / 45 R17
Adaptive LED Headlamps with Auto On/Off
LED Running Lamp
Time-Adjustable Intermittent with Rain Sensor
Dual-Type Exhaust Tail Pipe
Side Mirror Type: Power Adjust
Side Mirror Color: Black

INTERIOR

Leather Wrapped Shift Knob
Bluetooth Hands-Free System
Automatic Single-Zone Climate Control
Push Start / Stop Button
Auto Dimming Rear View Mirror
One-Touch Down Power Windows (Driver & Passenger)

Seating & Trim

Material: Recaro Seats
Color: Black with Red Accents

Audio & Infotainment

Mazda Connect with Aux-in, 2-USB, Bluetooth, Wireless Apple Carplay & Android Auto
9-Speaker BOSE Sound System

SAFETY & SECURITY

Airbags: Dual Front & Side Airbags
Anti-Lock Braking System with EBD (Electronic Brakeforce Distribution)
Dynamic Stability Control (DSC)
Smart Keyless Entry System
Rear Parking Sensors
Reverse Camera
Seatbelt Warning Lamp

I-ACTIVSENSE

Smart City Brake Support
Lane Departure Warning

Special Features

i-STOP Engine Idling Stop System
i-ELOOP Regenerative Braking System
Kinematic Posture Control
GENERAL

Engine: SKYACTIV-G 2.0L
Transmission: SKYACTIV-DRIVE 6-Speed Automatic with Sport Mode
Roof Color: Body Color

DIMENSIONS & WEIGHTS

Overall Length (mm): 3,915
Overall Width (mm): 1,735
Overall Height (mm): 1,235
Front Tread (mm): 1,495
Rear Tread (mm): 1,505
Wheelbase (mm): 2,310
Minimum Turing Radius (m): 4.7
Minimum Curb Weight (kg): 1,125

ENGINE

In-line 4-Cylinder DOHC, 16 Valves
Displacement (cc): 1,998
13:1 Compression Ratio
Electrically Controlled Fuel Injection
Recommended Fuel: Minimum RON 95 Premium Unleaded
Maximum Output (PS/rpm): 184 @ 7,000
Maximum Torque (Nm/rpm): 205 @ 4,000
Fuel Tank Capacity (L): 45

STEERING

Rack and Pinion
Tilt & Telescopic
Leather Wrapped Steering Wheel
Control Switch: Audio & Bluetooth Hands-Free
Paddle Shifters
Standard Cruise Control

SUSPENSION

Front: Double Wishbone
Rear: Multi-Link

BRAKES

Front: Ventilated Discs
Rear: Solid Discs

EXTERIOR

Wheels Type: 17" Aluminum Alloy Wheels
Wheels Color: Black
Tire Size: 205 / 45 R17
Adaptive LED Headlamps with Auto On/Off
LED Running Lamp
Time-Adjustable Intermittent with Rain Sensor
Dual-Type Exhaust Tail Pipe
Side Mirror Type: Power Adjust
Side Mirror Color: Black

INTERIOR

Leather Wrapped Shift Knob
Bluetooth Hands-Free System
Automatic Single-Zone Climate Control
Push Start / Stop Button
Auto Dimming Rear View Mirror
One-Touch Down Power Windows (Driver & Passenger)

Seating & Trim

Material: Nappa Leather / Leather
Color: Terracotta / Black

Audio & Infotainment

Mazda Connect with Aux-in, 2-USB, Bluetooth, Wireless Apple Carplay & Android Auto
9-Speaker BOSE Sound System

SAFETY & SECURITY

Airbags: Dual Front & Side Airbags
Anti-Lock Braking System with EBD (Electronic Brakeforce Distribution)
Dynamic Stability Control (DSC)
Smart Keyless Entry System
Rear Parking Sensors
Reverse Camera
Seatbelt Warning Lamp

I-ACTIVSENSE

Smart City Brake Support
Lane Departure Warning

Special Features

i-STOP Engine Idling Stop System
i-ELOOP Regenerative Braking System
Kinematic Posture Control
GENERAL

Engine: SKYACTIV-G 2.0L
Transmission: SKYACTIV-DRIVE 6-Speed Manual
Roof Color: Black

DIMENSIONS & WEIGHTS

Overall Length (mm): 3,915
Overall Width (mm): 1,735
Overall Height (mm): 1,235
Front Tread (mm): 1,495
Rear Tread (mm): 1,505
Wheelbase (mm): 2,310
Minimum Turing Radius (m): 4.7
Minimum Curb Weight (kg): 1,096

ENGINE

In-line 4-Cylinder DOHC, 16 Valves
Displacement (cc): 1,998
13:1 Compression Ratio
Electrically Controlled Fuel Injection
Recommended Fuel: Minimum RON 95 Premium Unleaded
Maximum Output (PS/rpm): 184 @ 7,000
Maximum Torque (Nm/rpm): 205 @ 4,000
Fuel Tank Capacity (L): 45

Steering

Rack and Pinion
Tilt & Telescopic
Leather Wrapped Steering Wheel
Control Switch: Audio & Bluetooth Hands-Free

Suspension

Front: Double Wishbone with Bilstein Dampers
Rear: Multi-Link
Limited Slip Differential
Strut Bar

Brakes

Front: Ventilated Discs
Rear: Solid Discs

Exterior

Wheels Type: 17" Aluminum Alloy Wheels
Wheels Color: Black
Tire Size: 205 / 45 R17
Adaptive LED Headlamps with Auto On/Off
LED Running Lamp
Time-Adjustable Intermittent with Rain Sensor
Dual-Type Exhaust Tail Pipe
Side Mirror Type: Power Adjust
Side Mirror Color: Black

Interior

Leather Wrapped Shift Knob
Bluetooth Hands-Free System
Automatic Single-Zone Climate Control
Push Start / Stop Button
Auto Dimming Rear View Mirror
One-Touch Down Power Windows (Driver & Passenger)

Seating & Trim

Material: Nappa Leather / Leather
Color: Terracotta / Black

Audio & Infotainment

Mazda Connect with Aux-in, 2-USB, Bluetooth, Wireless Apple Carplay & Android Auto
9-Speaker BOSE Sound System

Safety & Security

Airbags: Dual Front & Side Airbags
Anti-Lock Braking System with EBD (Electronic Brakeforce Distribution)
Dynamic Stability Control (DSC)
Smart Keyless Entry System
Rear Parking Sensors
Reverse Camera
Seatbelt Warning Lamp

I-ACTIVSENSE

Smart City Brake Support
Lane Departure Warning

Special Features

i-STOP Engine Idling Stop System
i-ELOOP Regenerative Braking System
Kinematic Posture Control
---
---